dEUS at Ancienne Belgique (Brussels) on 27/05/19
This page contains info about the dEUS-gig at
Ancienne Belgique
(
Brussels, Belgium
) on
Monday May 27th 2019
. Please tag your Instagram-pictures with
#dEUS270519
. If you have additional info about this gig,
please drop me a line
.
---


dEUS

The Ideal Crash 20th Anniversary Tour


Monday May 27th 2019
---
---
Setlist
Put the Freaks Up Front
Sister Dew
One Advice, Space
The Magic Hour
The Ideal Crash
Instant Street
Magdalena
Everybody's Weird
Let's See Who Goes Down First
Dream Sequence #1
—–
Quatre Mains
Fell Off the Floor, Man
Hotellounge (Be the Death of Me)
—–
Roses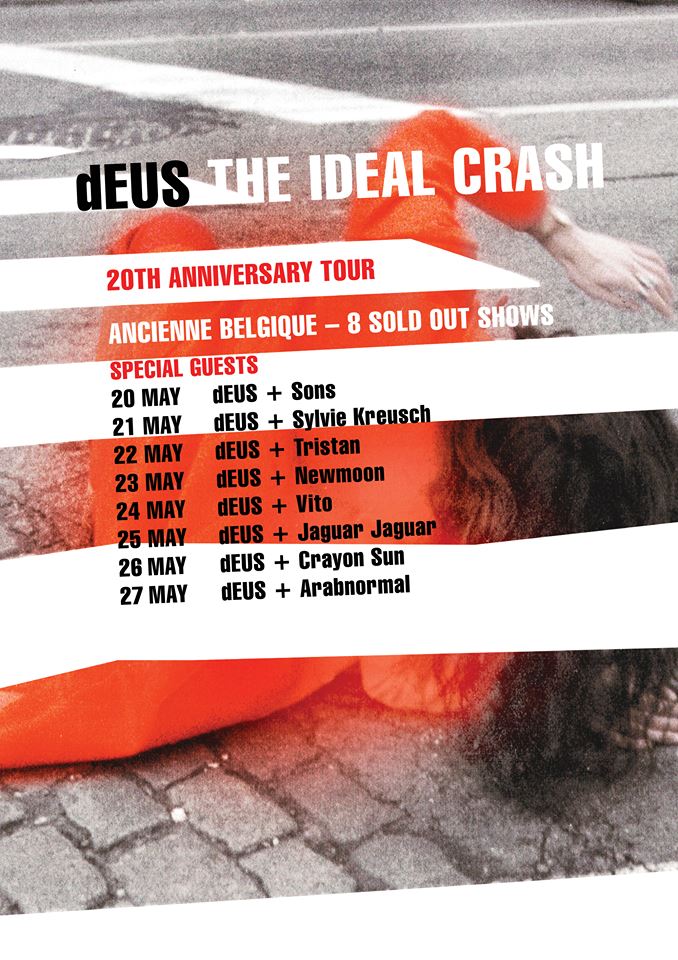 ---
Video
Subscribe to my channel
dEUS - Instant street @ Ancienne Belgique, 27.05.2019
---
Instagram
Please tag your Instagram-pics with
#dEUS270519
to have them shown in the overview below.
This error message is only visible to WordPress admins
Error: Hashtag limit of 30 unique hashtags per week has been reached. Feed may not display until October 17 2020 18:23.
If you need to display more than 30 hashtag feeds on your site, consider connecting an additional business account from a separate Instagram and Facebook account.
---
Flickr
Please tag your Flickr-pics with
dEUS270519
to have them shown in the slideshow below.
---
Venue info
dEUS at Ancienne Belgique, Brussels
| Date | Venue | City | Country | | |
| --- | --- | --- | --- | --- | --- |
| 27/05/19 | Ancienne Belgique | Brussels | Belgium | Sold Out | #dEUS270519 |
| 26/05/19 | Ancienne Belgique | Brussels | Belgium | Sold Out | #dEUS260519 |
| 25/05/19 | Ancienne Belgique | Brussels | Belgium | Sold Out | #dEUS250519 |
| 24/05/19 | Ancienne Belgique | Brussels | Belgium | Sold Out | #dEUS240519 |
| 23/05/19 | Ancienne Belgique | Brussels | Belgium | Sold Out | #dEUS230519 |
| 22/05/19 | Ancienne Belgique | Brussels | Belgium | Sold Out | #dEUS220519 |
| 21/05/19 | Ancienne Belgique | Brussels | Belgium | Sold Out | #dEUS210519 |
| 20/05/19 | Ancienne Belgique | Brussels | Belgium | Sold Out | #dEUS200519 |
| 05/05/08 | Ancienne Belgique | Brussels | Belgium | Sold Out | #dEUS050508 |
| 13/10/05 | Ancienne Belgique | Brussels | Belgium | Sold Out | #dEUS131005 |
| 12/10/05 | Ancienne Belgique | Brussels | Belgium | Sold Out | #dEUS121005 |
| 11/10/05 | Ancienne Belgique | Brussels | Belgium | Sold Out | #dEUS111005 |
| 03/04/99 | Ancienne Belgique | Brussels | Belgium | Sold Out | #dEUS030499 |
| 02/04/99 | Ancienne Belgique | Brussels | Belgium | Sold Out | #dEUS020499 |
| 01/04/99 | Ancienne Belgique | Brussels | Belgium | Sold Out | #dEUS010499 |
| 21/01/99 | Ancienne Belgique | Brussels | Belgium | | #dEUS210199 |
| 14/03/98 | Ancienne Belgique | Brussels | Belgium | | #dEUS140398 |
| 15/12/96 | Ancienne Belgique | Brussels | Belgium | Sold Out | #dEUS151296 |
| 14/12/96 | Ancienne Belgique | Brussels | Belgium | Sold Out | #dEUS141296 |
| 05/04/92 | Ancienne Belgique | Brussels | Belgium | | #dEUS050492 |
| 29/03/92 | Ancienne Belgique | Brussels | Belgium | | #dEUS290392 |